Charity
Everyone has a possibility to make the world a little better. It is just necessary to decide to act and make efforts. It means to see emptiness and fill it, hear a call for help and come to the rescue. It should seem to be a certain push-over or, alternatively, a landmark such as to create a medication, feed the hungry or built a school. Desire to make the world better is a call for action or fearless and direct cry in support. It means search and achieve, plunge into journey to nowhere but go through it as a goal.

We want to make the world better, so we decide to act. We create drugs in order to protect health of big and small, fluffy and not at all, but, ultimately, your all-time favourite pets. Thus, when the sun sets and we think about what tomorrow will bring to us, we understand that the aim to make the world better depends on not only our actions and behaviour. It is just us. That is what we are.
We aspire to make veterinary drugs and products universally effective, safe and available. It is our viewing (i.e. that overriding purpose) which fills AVZ activity with special meaning beyond the pale of ''simply'' successful business operations).
We help shelters for homeless animals and animal protection charitable foundations in all Russia.


For years AVZ supports an organization dealing with training of guide dogs for visually impaired persons (Educational Consultation Center Dogs as assistants for disabled persons). Rehabilitation of children with specific development using specially trained dogs (canis therapeutical group Sunny dog) is also an important branch of activities of Educational Consultation Center. Thanks to AVZ, all the dogs in Educational Consultation Center are dewormed and reliably protected from fleas and ticks.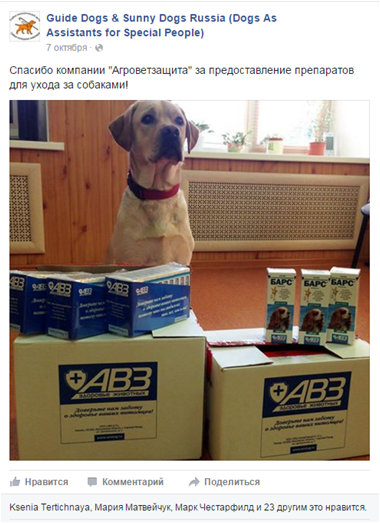 AVZ supports one more charitable project, particularly, exhibitions of homeless animals which are conducted by our long-standing partner (international charitable foundation ''Hope givers'').
Each animal which has obtained a master on this arrangement, goes home with set of the most necessary care products.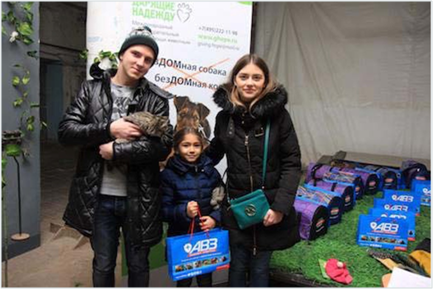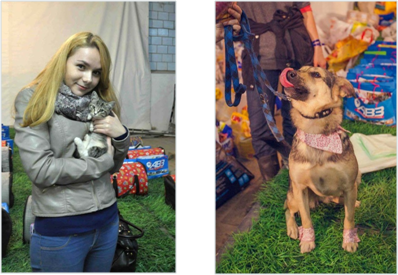 You can also do something good. Surely, shelters are in need of many things but even little aid will make their life easier.